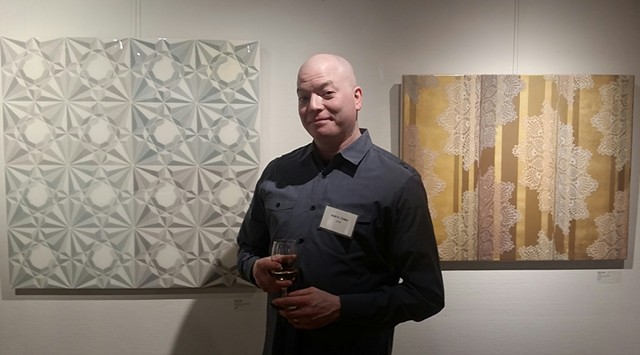 I regret to inform of the passing of the beautiful poet, Sandra Stone. She wrote this delightful statement for me a few years ago.
IMMACULATE CONFECTION - 2013
Matt Cosby's glassy, glossy images stimulate the taste buds. Sexy, tactile, compelling––this famished viewer wants nothing more than to indulge. But, wait! Not long before I encounter dark interstices. Deep-embedded, they cajole the inner eye. Now I weave among optical illusions, patterns––dizzying and precise. In some paintings there is no breathing space but ongoing field––an infinite regression. All this can be seen. But the objects of desire are elusive. They float under the surface, tantalizing, luminous.
As diverse as the paintings in this new exhibit are, they cohere because of the repetitions. Cosby has developed a technique using process acrylic directly on a sanded and prepared aluminum surface. That surface projects a felt tension suspended between the panel and what appears to float in front. Enlivened, ambiguous.
The luscious beauty of selected work is presented alongside new paintings that introduce darks. "To bring forward the brights?" I inquire. Typically, the engaging Cosby is noncommittal. While maintaining his strong interest in pattern, interlocked and independent, the works are elegant, mathematically precise. Cosby presents some forms that do not engage in dialogue with the viewer but assert they possess interior lives. The works are invitation to the quadrille––but! Now Cosby's gone again. He says he is attracted to undulant forms. Some, generated by ideas of pleasure, some by repulsion.
"The undulant forms in 'Snakes in the Ivy' reflect my phobia attached to snakes. I paint sine waves from trigonometry because they have infinite order. 'Lymon,' it is free, being 3-D, complementary to the aluminum series." This viewer is especially riveted by 'Lymon,' a candy that stands alone, of a yellow rimmed with lime that begs to be tasted, an ultimate confection. Cosby then draws my attention to newer works, a quartet of 5" x 5" squares, 'Turbine Quad,' in which thick plates of aluminum overlay small repetitive patterns that receive another overlay of resin. Something untouchable to be consumed by the eye
'Petals' appears as a sequential lyric poem. Translucent flower colors, Rambling Rose pink, yellow dahlia, peony peach. Overlapping, Rambling Rose pink transforms yellow dahlia. Yellow dahlia transforms peony peach. A surfeit of blush.
When I ask Cosby to elaborate on his technique, he pauses. It is difficult to draw from this absorbing dialogue any statement Cosby does not revise or retract. His conflicting mantras comprise a push and pull of process that conclude in the sensation, "this part is not exactly right." The viewer perceives industrial counterpointed by elegant, smooth epoxy finish counterpointed by sharp corners.
Cosby is a man of decided conviction. He quirkily withdraws statements he has just made. "I care about what the painting wants." "I want the work to be simple yet complicated. Then I take the complicated out." "The composition is well thought out in advance. I stick with a plan. I set rules for what that drawing is going to do." "I think of myself as a draughtsman." "I think of myself as a painter of shapes that interact with each other." "I paint to discover." "I have a facade to maintain." "I make cool geometric drawings. They don't mean anything. My paintings are not emotive. I would not put my emotions out there to be judged."
Matt Cosby has just made his case and closed it.
by Sandra Stone (1934 - 2018)